Release date: 9 August 2020
Genre: 3DCG, Male Protagonist, Monster girl, Paranormal
Censorship: No
Language: English
Size: 3.3 GB [Win/Mac]
About:Eternal Lust – Version 0.2.1 – Update"
Eternal Lust is an adult visual novel game. You'll be playing the role of a college student and live a normal life. Guide him in which path should he take, good or evil. You will encounter numerous hot chicks on this journey. Make them fall in love with you, or corrupt them and lead them to their submission or even mind break, the choices are in your hand. Plus, there will be no GAME OVER. Life is a bitch, so deal with it. Different endings for every decision you have made, so choose wisely.​
Changelog:
Unlocking various places
i ) Ann's house ( Ann's and Mandy's bedroom ).
ii ) Ann's office.
iii) Frost's house.
iv ) Nadia's house.
v ) Hospital.
vi ) Eleanor's store.
vii ) House pool.
viii ) House basement.
ix ) Cindy's office.
x ) Strip club.
xi ) Nightclub / Bar.
xii ) The front gate of the abandoned cult mansion.
Scenes
i ) Eleanor's inhibition scene in the bathroom early morning.
ii ) Eleanor's inhibition scene at the store.
iii ) Ann's inhibition scene in her office.
iv ) Ann's inhibition scene in her bedroom.
v ) Mandy's inhibition scene in her bedroom.
vi ) Nadia's inhibition scene at her house.
vii ) Frost's inhibition scene at her house.
viii) Additional scenes for Alex and Cassie.
ix ) Spa event with Nadia.
x ) Tan with Nadia and Cassie at the pool ( additional scene and dialogue )
xi ) Lust scene for Chloe.
xii ) Lust potion scene with Lilith ( additional dialogue )
New single render
i) MC at gym
ii) MC doing project
iii) MC helping Trisha doing her project
iv) Girls enter bathroom early morning
v) Frost greets in her office during the day
vi) Frost welcome in her house at night
vii) Ann greets in her office
viii) Ann greets in her room at night
ix) Mandy greets in her room at night
x) Nadia greets in her house in the morning
xi) Eleanor greets in her store during the day
xii) Rita greets and doing yoga ( Evening ) ( Improvement )
xiii) Power menu update ( Potion of lust )
Improvement and new features
i ) Adding a new script for quest tracker.
ii ) Fixing script errors.
iii ) Compile a series of images into videos with sound effects.
iv ) Adding options for climax during lust scenes for Alex and Cassie.
Content
– 141 new rendered UHD images ( 840 UHD still images )
– Chloe's lust scenes ( 4 different poses in her room in the morning and at night ) = 240 UHD images ( Animated )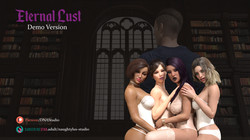 You can enjoy all benefits of this site with enormous collection of adult games downloads for free. To do it a lot faster, wasting no time and BTW supporting us to do more great releases you can kindly buy an FBOOM premium here receiving +10% days for Fboom.me Premium using our link!

Win:
https://fboom.me/file/ede32d209a7bd/Eternal_Lust_version_0.2.1-pc.zip
Mac:
https://fboom.me/file/0112b76792e42/Eternal_Lust_version_0.2.1-mac.zip