Release date: 23 April 2021
Genre: 2DCG, Animated, Male protagonist, Big ass, Big tits, Titfuck, Adventure, Monster girl, Point & click, PoV, Romance, Sci-f, Cheating
Censorship: No
Language: English
Size: 700 MB
About:The Solarion Project – Version 0.12 – Update"
Explore the galaxy with your all female crew to support you! Having recently inherited a ship from your estranged father, you set out on a journey to discover new worlds with a new family. However your past begins to catch up to you and you begin to find out things about your father than you and even the crew he spent years with, never knew. Each crew member has their own in depth and rich personality and back story. Pick your favourite to form an intimate relationship with, or maybe… multiple. There are many choices to make and not all of them leading to happy outcomes, but it's up to you, the player. In control of your own destiny as you begin to discover, what is the Solarion Project?​
Changelog:
Main Changes:

– Shuma Level 2 Progression Added!
– Ilyana Side Quest Added! (Can you find the easter egg scene??)
– Malaena TF is now animated!
– Shelly BJ is now animated! (added in public build)
– Work on re-work project has begun – nothing major to report on that (read Patreon post for better explanation)

Bug Fixes:

– The game will no longer bug with an end relationship option for Malaena if you romance Catherine first
– Corrected Malaena's Quest triggers (so icons appear at the correct time)
– Fixed the phone image / background bug – images should now be selectable again for phone backgrounds
– Fixed an issue where if you saved on Aquinas and reloaded, NPCs would appear despite them not suppossed to
– Fixed a slight UI issue where planet description was difficult to read when close proximity to a sun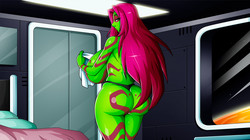 You can enjoy all benefits of this site with enormous collection of adult games downloads for free. To do it a lot faster, wasting no time and BTW supporting us to do more great releases you can kindly buy an FBOOM premium here receiving +10% days for Fboom.me Premium using our link!

https://fboom.me/file/1791fb4866803/The_Solarion_Project_-_0.14_-_public.7z