Last Update:
July 23, 2021
Tags:
3DCG
,
Animated
,
cheating
,
cuckold
,
Female Domination
,
Female protagonist
,
Gang Bang
,
group sex
,
interracial
,
lesbian
,
Male Domination
,
NTR
,
threesome
,
Voyeurism

Release date: 24 June 2021
Genre: 3DCG, Animated, NTR, Cheating, Cuckold, Interracial, Lesbian, Threesome, Group Sex, Gang Bang, Female Domination, Male Domination, Voyeurism, Female Protagonist
Censorship: No
Language: English
Size: 3.1 GB [Win/Mac/Android]
About:Angelica's Temptation: From the Beginning – Version 0.3.0 Part2 – Update" 
This VN will tell Angelica's story, she's a housewife married for ten years with Henry. But their relationship is no longer the same, Henry is working too much and they haven't had sex for a long time, but the main issue in this is there's a side of Angelica that she never revealed to her husband, she have a psychiatric disorder named Nymphomania with which she has been struggling since her she was a teenager, which caused her to experience many things before she was married, things which she never told Henry about, and one of those things is that although she still has herself under control, some people have the ability trigger her disorder, specially Aria and Mark. Aria is Angelica's best friend and one of the few people who knows about her disorder and also the person who witnessed the "real" Angelica, as for Mark, he's Henry's best friend which is divorcing and "need" a place to "lay low" for a while but the main problem is that Mark also knows about Angelica's nymphomania and that is the point where the game start, will Angelica's succumb to the temptation that both Aria and Mark represent? Or will she succumb to her disorder? Her destiny lies in your hands​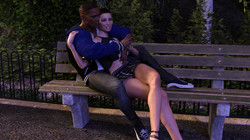 You can enjoy all benefits of this site with enormous collection of adult games downloads for free. To do it a lot faster, wasting no time and BTW supporting us to do more great releases you can kindly buy an FBOOM premium here receiving +10% days for Fboom.me Premium using our link!

Win:
https://fboom.me/file/18abaef4310d4/Angelicas_Temptation_From_the_Beginning-0.3.0-part2-8-10-Patreon-pc.zip
Mac:
https://fboom.me/file/c8322fd487376/Angelicas_Temptation_From_the_Beginning-0.3.0-part2-8-10-Patreon-mac.zip
Android:
https://fboom.me/file/e0715882126a4/Angelicas_Temptation_From_the_Beginning_v0.3.0_Part_2_8-10.apk

You are here cause you are going to download most searched porn android game for free, no hidden fees, no ads, just enjoy. [Android] Angelica's Temptation: From the Beginning – Version 0.3.0 Part2 8/10 – Update is a free adult android game that can be described by the following tags: 3DCG, Animated, cheating, cuckold, Female Domination, Female protagonist, Gang Bang, group sex, interracial, lesbian, Male Domination, NTR, threesome, Voyeurism.
The latest update of this adult android game was uploaded on July 23, 2021, please stay tuned and follow us to receive all new updates and releases. We also bring high-quality android game updates every day, so make sure to check all new adult android game and porn android game, download and enjoy a unique experience. Our adult games, artworks, adult comics, siterips, adult videos and android games provide amazing experiences that make you want to play and watch them. Enjoy free adult android game and other high-quality porn android game on AdultComics.Me