Last Update:
July 23, 2021
Tags:
3DCG
,
BDSM
,
big ass
,
Big tits
,
Corruption
,
Cosplay
,
Dating Sim
,
Exhibitionism
,
Female Domination
,
Groping
,
handjob
,
Harem
,
lesbian
,
Male Domination
,
Male Protagonist
,
Masturbation
,
oral sex
,
romance
,
sandbox
,
sex toys
,
spanking
,
Superpowers
,
trainer
,
virgin
,
Voyeurism

Release date: 2 July 2021
Genre: 3DCG, Male protagonist, Harem, Dating sim, Trainer, Lesbian, BDSM, Male domination, Female domination, Exhibitionism, Cosplay, Corruption, Big tits, Groping, Masturbation, Oral sex, Spanking, Voyeurism, Virgin, Sex toys, Handjob, Romance, Sandbox, Superpowers, Big ass
Censorship: No
Language: English
Size: 1.3 GB [Win/Mac/Android]
About:Hail Dicktator – Version 0.21.2 – Update"
Down on your luck, you suddenly receive a letter from an uncle you never knew you had. He offers you a job to manage his tropical island resort. You find it's full of beautiful women and a strange culture of punishment and reward. But perhaps the island itself is even stranger than the people that inhabit it…
Build friendships and fall in love with the girls. Punish or reward them. Follow their stories. Explore the secrets of the island, upgrade the hotel, build more facilities. Maybe one day, you will become the new 'Dicktator'!
'Hail Dicktator' features fetishes of all kinds already available in the game, including bondage and feet. Version 0.1.0 has more than 80 total scenes and around 45 events with more than 650 high quality renders.
Changelog:
* 200+ new renders
* 20+ new scenes/events
* Two new map events (one repeatable)
* 5 new animations
* New Hjs and Bj scenes with Leah, Hazel & Sarah
* New sex scene with Alice
* New bondage and spanking scene with Scarlet plus repeatable map event
* New Strap-on scene
* New humiliation punishment with Daisy
* Main story continued
* Several side stories continued
* Current main arc climax starting
* Can now rename MC (in settings)
* Saves will display version and completion (only works for saves created from this version on)
* Provided google translate language files for: German, French, Japanese, Chinese (simplified), Russian, and Spanish. Some of the languages already have active translators (German, Polish). I don't encurage people to play with the google translate translations, since the translation is pretty bad. However, it serves as a good entry point for translators, and since it's unlikely to be translated into some of these languages anytime soon, it's at least something.

\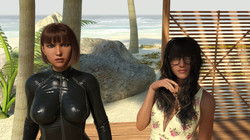 You can enjoy all benefits of this site with enormous collection of adult games downloads for free. To do it a lot faster, wasting no time and BTW supporting us to do more great releases you can kindly buy an FBOOM premium here receiving +10% days for Fboom.me Premium using our link!

Win:
https://fboom.me/file/6363163d60708/HailDicktator_0.21.2_Windows64.zip
Mac:
https://fboom.me/file/818815db9789c/HailDicktator_0.21.2_macOS.zip
Android:
https://fboom.me/file/fc4a22824aafc/HailDicktator_0.21.2.apk

You are here cause you are going to download most searched porn android game for free, no hidden fees, no ads, just enjoy. [Android] Hail Dicktator – Version 0.21.2 – Update is a free adult android game that can be described by the following tags: 3DCG, BDSM, big ass, Big tits, Corruption, Cosplay, Dating Sim, Exhibitionism, Female Domination, Groping, handjob, Harem, lesbian, Male Domination, Male Protagonist, Masturbation, oral sex, romance, sandbox, sex toys, spanking, Superpowers, trainer, virgin, Voyeurism.
The latest update of this adult android game was uploaded on July 23, 2021, please stay tuned and follow us to receive all new updates and releases. We also bring high-quality android game updates every day, so make sure to check all new adult android game and porn android game, download and enjoy a unique experience. Our adult games, artworks, adult comics, siterips, adult videos and android games provide amazing experiences that make you want to play and watch them. Enjoy free adult android game and other high-quality porn android game on AdultComics.Me