Last Update:
July 23, 2021
Tags:
2D Hand draw
,
anal sex
,
Animated
,
Beasts
,
big ass
,
Big tits
,
Dating Sim
,
demonic
,
Demons
,
Exhibitionism
,
fantasy
,
Male Protagonist
,
oral sex
,
sex toys
,
Stripping
,
titfuck
,
vaginal sex

Release date: 17 March 2021
Genre: 2D Hand draw, Animated, Male Protagonist, Dating Sim, Exhibitionism, Sex Toys, Oral Sex, Titfuck, Anal Sex, Vaginal Sex, Big Ass, Big Tits, Stripping, Demonic, Demons, Beasts, Fantasy
Censorship: No
Language: English
Size: 1 GB
About:Despot Desires – Version 2.30 – Update"
The Kutawala Crystal stone passed down through the Ages as Myth, Legend; A beautiful female Overlord bent on ending the human race, and a Hero trying to understand it all. Time doesn't matter but does Love?
Learn more about the Ancient Gem, join the hero in capturing the "Evil" Overload, then, build their lives in love or Burn it all in Lust, you choose.​
Changelog:
HAPPY HALLOWEEN! (or merry christmas to our public players!) Pretty nice build we got here, a better sex scene, and a whole pack of new backgrounds. Well, the Living room and the shop aren't new yet,!! BUT we have an artist making us a new ones! soo just wait up for that ! It's coming. (Merry christmas Public players we hope to see you in our free discord!)
Hint: Look for the bats!
and Once more folks…
Remember to have a little more patience with yourself during all this Virus stuff, stay safe stay healthy.
ChangeLog:
So the day has come and I have to say it's a whopper of a build:
We have really Updated the Code on this one and added a bunch of new content
NOTE**** Important
Two things for this build: 1) the journal will not work and 2) for the next build, it will not be making a return- *UPDATE CHANGE* per request by you guys the journal system is back! in the 2.8 build on Patreon! Thank you so much for your support/ feed back and if there are any bugs with this rebuild, please be sure to let us know in the comments here or in The Armory discord under #bug-reports-and-issues.
Second NOTE***
I'm sorry to say this but old saves will not work. We've changed far too much to put on some of the slap fixes that we had before via the green exclamation point but on a positive end, you won't need to even touch the green "!" after this new build since the code has already been fixed up.
and Once more folks…
Remember to have a little more patience with yourself during all this Virus stuff, stay safe stay healthy. Apparently vaccines are finally Here, If your feeling like thats for you go for it! Your if you still learning about it or not for it that's alright too! Soon we will be back to normal Earth. With that said check out this huge changelog and enjoy the latest build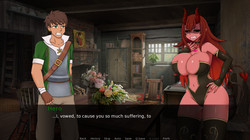 You can enjoy all benefits of this site with enormous collection of adult games downloads for free. To do it a lot faster, wasting no time and BTW supporting us to do more great releases you can kindly buy an FBOOM premium here receiving +10% days for Fboom.me Premium using our link!

https://fboom.me/file/ec19880e70b1b/Despot_Desires-2.7.2-win.zip
You are here cause you are going to download most searched porn game for free, no hidden fees, no ads, just enjoy. Despot Desires – Version 2.72 – Update is a free adult game that can be described by the following tags: 2D Hand draw, anal sex, Animated, Beasts, big ass, Big tits, Dating Sim, demonic, Demons, Exhibitionism, fantasy, Male Protagonist, oral sex, sex toys, Stripping, titfuck, vaginal sex.
The latest update of this adult game was uploaded on July 23, 2021, please stay tuned and follow us to receive all new updates and releases. We also bring high-quality game updates every day, so make sure to check all new adult game and porn game, download and enjoy a unique experience. Our adult games, artworks, adult comics, siterips, adult videos and android games provide amazing experiences that make you want to play and watch them. Enjoy free adult game and other high-quality porn game on AdultComics.Me